http://www.cambridge.org/gb/knowledge/isbn/item5562701/?site_locale=en_GB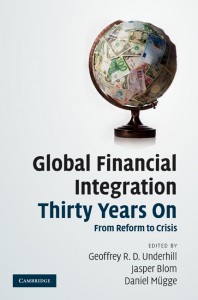 Early in the new millennium it appeared that a long period of financial crisis had come to an end, but the world now faces renewed and greater turmoil. This 2010 volume analyses the past three decades of global financial integration and governance and the recent collapse into crisis, offering a coherent and policy-relevant overview. State-of-the-art research from an interdisciplinary group of scholars illuminates the economic, political and social issues at the heart of devising an effective and legitimate financial system for the future. The chapters offer debate around a series of core themes which probe the ties between public and private actors and their consequences for outcomes for both developed markets and developing countries alike. The contributors argue that developing effective, legitimate financial governance requires enhancing public versus private authority through broader stakeholder representation, ensuring more acceptable policy outcomes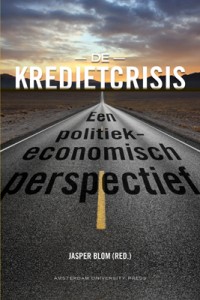 http://en.aup.nl/books/9789048513253-de-kredietcrisis.html
September 2008 the global financial markets stood at the edge of the abyss after the default of the American bank Lehman Brothers. Although a complete meltdown was avoided, the so-called 'credit crunch' led to the largest economic recession since the Great Depression of 1929. De kredietcrisis analyses the causes of the crisis from a political economy perspective and sets the crisis in the context of long-term trends in the global economy. Three key arguments run throughout the volume: (i) markets are institutionally embedded; (ii) financialisation has increased the importance of finance vis-a-vis the real economy; and (iii) decisions and nondecisions of policymakers were key in the developments leading to the crisis. The volume offers a unique Dutch-language collection of scholarly work on the political economy of financial markets and emphasises that a more thorough public debate on the developments and regulation of the financial system is needed.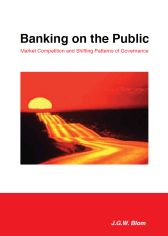 http://dare.uva.nl/en/record/398055
The financial crisis that started in 2007 has put the inherent challenges posed by global financial markets in a multilevel governance setting in sharp relief. It prominently raised the question why it apparently was not possible to develop a governance pattern better equipped to mitigate the worst effects of the crisis. In more formal terms: What explains the relationship between market structure and patterns of governance, so as to understand the dynamics of the global financial system? This thesis develops an innovative approach to address this issue. It is argued that an integrated notion of states and markets can further our understanding of the global financial system. Both public and private actors exert agency on markets and in the policymaking process in a simultaneous fashion, and a focus on either markets or states ('politics') therefore falls short in explaining the dynamic in the system. The case studies on the policymaking processes addressing international bank capital adequacy standards (the Basel Capital Accords) and sovereign debt crisis resolution provide the empirical backing for this argument. Overcoming the state-market dichotomy not only leads to better analysis, it also points to new and important avenues for reform. This thesis therefore provides a timely analytical and socially relevant contribution.
Book chapters (peer reviewed)
Blom, J. 'Banking' in: Mugge, D.K. (ed.), Europe and the governance of global finance, Oxford University Press, 2014 http://ukcatalogue.oup.com/product/9780199683963.do
Underhill, G.R.D. & J. Blom, 'The International Financial Architecture: plus ça change…?', in: Mayntz, R. (ed.), Crisis and Control. Institutional Change in Financial Market Regulation, Campus Verlag (MPIfG book series), 2012 http://www.campus.de/wissenschaft/politikwissenschaft/Internationale+Politik.40413.html/Crisis+and+Control.99686.html
Underhill, G.R.D., Blom, J. & D. Mügge, 'Introduction, the challenges and prospects of global financial integration' in: Underhill, G.R.D., Blom, J. & D. Mügge (eds), Global financial integration thirty years on, from reform to crisis, Cambridge University Press, 2010 p. 1-22
Mügge, D., G.R.D. Underhill & J. Blom, 'Conclusion, whither global financial governance after the crisis?' in: Underhill, G.R.D., Blom, J. & D. Mügge (eds), Global financial integration thirty years on, from reform to crisis, Cambridge University Press, 2010, p. 304-315
Blom, J., 'De politieke economie van het financiële system: het spel van markt, macht en crises' [The political economy of the financial system: the game of markets, power and crises], in: Blom, J. (ed.), De kredietcrisis – een politiek economisch perspectief', Amsterdam University Press, 2010, p. 11-38
Blom, J., 'Banken in crisis: sterker toezicht of beter bankieren?' [Banks in crisis: strengthened supervision or better banking?], in: Blom, J. (ed.), De kredietcrisis – een politiek economisch perspectief', Amsterdam University Press, 2010, p. 111-142
Other publications
Underhill, G.R.D. & J. Blom, Global financial integration, twin crises, and the enduring search for financial stability, CEPR policy report, 2013 http://www.voxeu.org/content/global-financial-integration-twin-crises-and-enduring-search-financial-stability
'Book review of Rittberger, V. & M. Nettesheim (eds), Authority in the Global Political Economy', Comparative Sociology, 2010 (vol 9), p. 548 – 550
'Governance pattern and market structure: the case of banking supervision under the Basel Capital Accords', GARNET Working Paper, no. 66/09, June 2009
'Book review of Peet, R. (2007), Geography of power, the making of global economic policy', Comparative Sociology, 2009 (vol 8), p. 626 – 628
'Book review of Mosley, L. (2003), Global capital and national governments', Comparative Sociology, 2006 (vol 5), p. 407 – 409