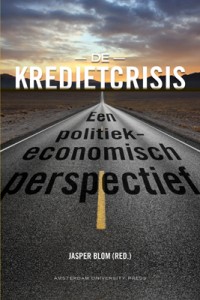 http://en.aup.nl/books/9789048513253-de-kredietcrisis.html
In september 2008 balanceren mondiale financiële markten aan de rand van de afgrond na het faillissement van de Amerikaanse zakenbank Lehman Brothers. Hoewel een totale meltdown uitbleef, leidde de kredietcrisis tot de grootste economische recessie sinds de Grote Depressie van 1929. Door deze crisis werd helder wat de gevolgen zijn van mondiale integratie en expansie van de financiële markten op het dagelijkse leven. De kredietcrisis analyseert de oorzaken van de kredietcrisis vanuit een politiek-economisch perspectief en plaatst de crisis in de context van langer lopende ontwikkelingen. Hierbij staan drie punten centraal: de institutionele inbedding van de markten, financialisering van de economie (het toenemende belang van de financiële economie boven de reële economie), en de beslissingen (of nalaten van het nemen van een beslissing) van relevante beleidsmakers. De verschillende bijdragen laten zien dat de wisselwerking tussen financiële beleidsmakers en marktpartijen – vaak onbedoeld – de processen in gang zette die tot de crisis leidden. Nu de acute fase van de crisis voorbij is het zaak dat beleidsmakers en bankiers lering trekking en zich opnieuw afvragen welke kant het op moet met het financiële systeem. Deze bundel levert een waardevolle bijdrage aan deze discussie door de aandacht voor zowel economische ontwikkelingen als voor regulering. De kredietcrisis biedt een uniek Nederlandstalig overzicht van de politieke economie van financiële markten. De belangrijkste lering die we uit de crisis kunnen trekken is dat er een grondiger publiek debat plaats moet vinden over de ontwikkelingen en regulering van het financiële systeem, waarin niet alleen financiële partijen maar alle belanghebbenden betrokken zijn. 'De kredietcrisis' geeft daarbij niet alleen een denkraam om de recente ontwikkelingen te begrijpen, maar ook concrete beleidsaanbevelingen door de expert op diverse beleidsterreinen. Zo suggereert Jasper Blom bijvoorbeeld nieuwe kapitaaleisen aan banken waarmee ze op meerdere punten gezekerd worden (en dus een meer solide buffer aanhouden). Rien Jeuken en Bob Coppes adviseren om tot een centraal verwerkingsinstituut (Central Counterparty) voor derivaten te komen om de markt transparanter en minder risicovol te maken. Laura Horn en Arjan Vliegenthart roepen op om werknemers en consumenten meer aandacht te schenken in het ondernemingsbestuur, naast de aandeelhouders.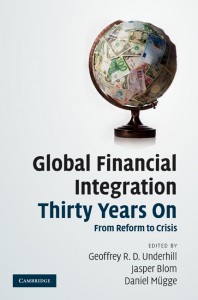 http://www.cambridge.org/gb/knowledge/isbn/item5562701/?site_locale=en_GB
Early in the new millennium it appeared that a long period of financial crisis had come to an end, but the world now faces renewed and greater turmoil. This 2010 volume analyses the past three decades of global financial integration and governance and the recent collapse into crisis, offering a coherent and policy-relevant overview. State-of-the-art research from an interdisciplinary group of scholars illuminates the economic, political and social issues at the heart of devising an effective and legitimate financial system for the future. The chapters offer debate around a series of core themes which probe the ties between public and private actors and their consequences for outcomes for both developed markets and developing countries alike. The contributors argue that developing effective, legitimate financial governance requires enhancing public versus private authority through broader stakeholder representation, ensuring more acceptable policy outcomes.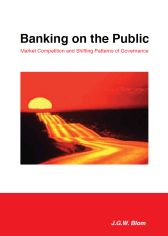 http://dare.uva.nl/en/record/398055
The financial crisis that started in 2007 has put the inherent challenges posed by global financial markets in a multilevel governance setting in sharp relief. It prominently raised the question why it apparently was not possible to develop a governance pattern better equipped to mitigate the worst effects of the crisis. In more formal terms: What explains the relationship between market structure and patterns of governance, so as to understand the dynamics of the global financial system? This thesis develops an innovative approach to address this issue. It is argued that an integrated notion of states and markets can further our understanding of the global financial system. Both public and private actors exert agency on markets and in the policymaking process in a simultaneous fashion, and a focus on either markets or states ('politics') therefore falls short in explaining the dynamic in the system. The case studies on the policymaking processes addressing international bank capital adequacy standards (the Basel Capital Accords) and sovereign debt crisis resolution provide the empirical backing for this argument. Overcoming the state-market dichotomy not only leads to better analysis, it also points to new and important avenues for reform. This thesis therefore provides a timely analytical and socially relevant contribution.
Artikelen en boekhoofdstukken
Blom, J. 'Banking' in: Mugge, D.K. (ed.), Europe and the governance of global finance, Oxford University Press, 2014 http://ukcatalogue.oup.com/product/9780199683963.do
Underhill, G.R.D. & J. Blom, Global financial integration, twin crises, and the enduring search for financial stability, CEPR policy report, 2013 http://www.voxeu.org/content/global-financial-integration-twin-crises-and-enduring-search-financial-stability
Underhill, G.R.D. & J. Blom, 'The International Financial Architecture: plus ça change…?', in: Mayntz, R. (ed.), Crisis and Control. Institutional Change in Financial Market Regulation, Campus Verlag (MPIfG book series), 2012 http://www.campus.de/wissenschaft/politikwissenschaft/Internationale+Politik.40413.html/Crisis+and+Control.99686.html
'Book review of Rittberger, V. & M. Nettesheim (eds), Authority in the Global Political Economy', Comparative Sociology, 2010 (vol 9), p. 548 – 550
'Governance pattern and market structure: the case of banking supervision under the Basel Capital Accords', GARNET Working Paper, no. 66/09, June 2009
'Book review of Peet, R. (2007), Geography of power, the making of global economic policy', Comparative Sociology, 2009 (vol 8), p. 626 – 628
'Book review of Acemoglu, D. & J.A. Robinson (2005), Economic origins of dictatorship and democracy', De Republikein, September 2009
'Book review of Mosley, L. (2003), Global capital and national governments', Comparative Sociology, 2006 (vol 5), p. 407 – 409