Articles
Book chapters
Blom, J. (2014) 'Banking' in: Mugge, D.K. (ed.), Europe and the governance of global finance, Oxford University Press, p. 35-52
Underhill, G.R.D. & J. Blom (2012) 'The International Financial Architecture: plus ça change…?', in: Mayntz, R. (ed.), Crisis and Control. Institutional Change in Financial Market Regulation, Campus Verlag (MPIfG book series), p. 279-293
Underhill, G.R.D., Blom, J. & D. Mügge (2010) 'Introduction, the challenges and prospects of global financial integration' in: Underhill, G.R.D., Blom, J. & D. Mügge (eds), Global financial integration thirty years on, from reform to crisis, Cambridge University Press, p. 1-22
Mügge, D., G.R.D. Underhill & J. Blom (2010) 'Conclusion, whither global financial governance after the crisis?' in: Underhill, G.R.D., Blom, J. & D. Mügge (eds), Global financial integration thirty years on, from reform to crisis, Cambridge University Press, p. 304-315
Blom, J. (2010) 'De politieke economie van het financiële system: het spel van markt, macht en crises' [The political economy of the financial system: the game of markets, power and crises], in: Blom, J. (ed.), De kredietcrisis – een politiek economisch perspectief', Amsterdam University Press, p. 11-38
Blom, J. (2010) 'Banken in crisis: sterker toezicht of beter bankieren?' [Banks in crisis: strengthened supervision or better banking?], in: Blom, J. (ed.), De kredietcrisis – een politiek economisch perspectief', Amsterdam University Press, p. 111-142
Books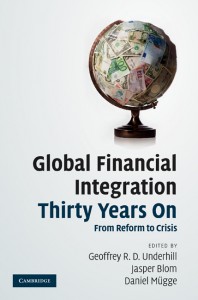 This 2010 volume analyses the past three decades of global financial integration and governance. An interdisciplinary group of scholars illuminates the economic, political and social issues at the heart of devising an effective and legitimate financial system. The contributors argue that developing effective and legitimate financial governance requires enhancing public versus private authority through broader stakeholder representation.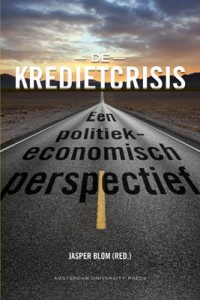 This unique Dutch-language 2010 volume analyses the causes of the Global Financial Crisis arguing that: (i) markets are institutionally embedded; (ii) financialisation has increased the importance of finance vis-a-vis the real economy; and (iii) decisions and nondecisions of policymakers were key in the developments leading to the crisis. The authors emphasises that a more thorough public debate on the financial system is needed.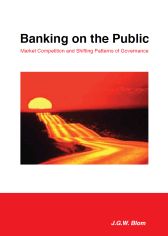 The Great Financial Crisis prominently raised the question how to explain the relationship between market structure and patterns of governance in the global financial system. This 2011 PhD thesis argues that both public and private actors exert agency on markets and in the policymaking process in a simultaneous fashion, offering a innovative explanation for the dynamics of the global financial system.
Other
Underhill, G.R.D. & J. Blom (2013) Global financial integration, twin crises, and the enduring search for financial stability, CEPR policy report
'Book review of Rittberger, V. & M. Nettesheim (eds), Authority in the Global Political Economy', Comparative Sociology, 2010 (vol 9), p. 548 – 550
'Governance pattern and market structure: the case of banking supervision under the Basel Capital Accords', GARNET Working Paper, no. 66/09, June 2009
'Book review of Peet, R. (2007), Geography of power, the making of global economic policy', Comparative Sociology, 2009 (vol 8), p. 626 – 628
'Book review of Mosley, L. (2003), Global capital and national governments', Comparative Sociology, 2006 (vol 5), p. 407 – 409